今回は、RJapaneseが開催してきたセミナーの一つをレビューします。それは、「ジョグジャカルタ・マリオボロ」セミナーです。
This time I will review one of the seminars that have been held by RJapanese. It's a"Malioboro, Yogyakarta"seminar!
さあ、一緒に読みましょう!
Come on, let's read it together!
***
Have you heard of Malioboro? It is one of the tourist attractions in Yogyakarta, Indonesia. In Yogyakarta, there are many tourist attractions such as nature tours, shopping tours, food tours, history tours, etc. One of them is the Malioboro area. The Malioboro area is a must visit area when you're in Yogyakarta! In this article, I will introduce you to the attractions of Malioboro area.
What are the things we can find in Malioboro?
Shopping(買い物する)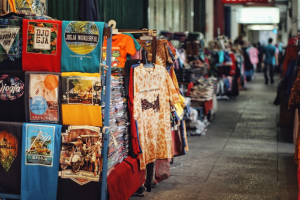 It's impossible to separate shopping from Malioboro. As you know, the Malioboro area is full of shops with goods and souvenirs to offer. Here, you'll find everything from batik to cute sandals. You'll also find a variety of prices: some are affordable, others are quite expensive. It's important to bargain when you visit here.
Here are some tips on bargain the price. If it's too expensive, you can say,
"Ini mahal. Bisa lebih murah tidak?"
which means,
"高いですね。もっと安くなりませんか (It's expensive. Can I get a lower price?)"
Delicious and unique foods(美味しくユニークな食べ物)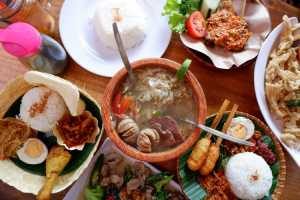 In this area, you can find any kind of food, from traditional Yogyakarta cuisine, such as Gudeg or Yamko, to unique dishes, such as Oseng Oseng Mercon (Oseng Oseng Firecrackers) or Sate Kere (Poor Satay).
Additionally, all of the food offered is affordable and filling.
Photo spots abound.
Here you can find lots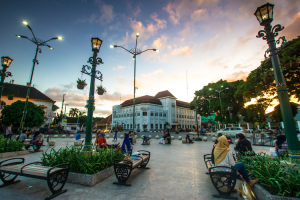 of great photo spots! Be sure to take as many photos as you can!
***
All right, that's my review. You can watch the seminar video by clicking here.
ジョグジャカルタの観光  | インドネシア | On-demand Seminar | Jogjakarta by Arisya

Please like, comment, and subscribe to our YouTube channel!
Have a great day^^